Halo Vision
Photobooth
October 29, 2011
Paranormal Olympics at Betalevel
---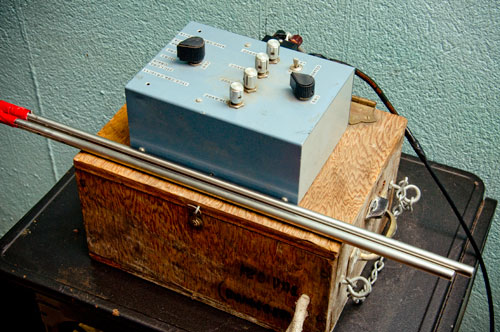 As a photographer, generally I find myself trying to crop people out of the frame. I am more comfortable capturing places or messages than people -- signs of life rather than life itself. Except for the documentation of events I have organized, I tend to feel too much like an intruder into someone else's moment; they are doing all the work and I am stealing a frame of it.
The interesting thing for me about photobooths, then, is how photographer and subject work together to make an image. I establish a situation -- a setting and some implicit rules of behavior -- and the subjects place themselves within it and act either accordingly or, often, unpredictably. They're going to do what they're going to do. It is quick, haphazard. Unlike traditional portraiture, there often isn't time for do-overs. Neither party is quite in control, yet there is a reciprocal trust in the process.
This photobooth stretched that trust beyond the normal realm. The objective was to visualize the subjects' auras, the energy they emit. In a way, all photographs do that. They freeze a moment of energy. But here it became literal. I constructed an apparatus of which the subjects took hold and a process that I couldn't exactly control for adding a representation of that energy to the image captured by the camera. For the subjects, the added element of trust was in the sincerity of the apparatus. I gave few answers, so they had to rely on faith. Myself, beyond the usual trust in the subjects to perform their selves, I had to believe that the unpredictable process would interact with and enhance those performances, producing interesting compositional results. We both had to trust that the magic would happen, and that it would become visible.
---
---