In Yer Mouf Dot Com
An oral and visual history of Midnight Ridazz
Book project, in progress (initiated 2010)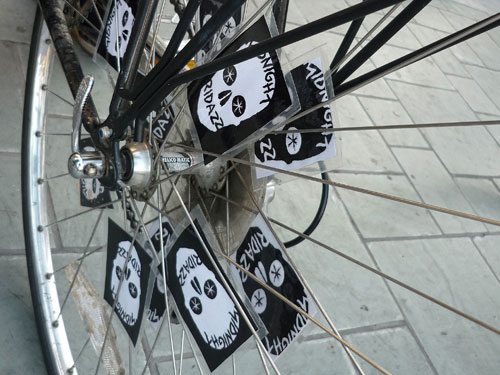 Los Angeles, car city. Nobody walks in L.A., much less rides a bike, right? That's for cities like Portland or San Francisco, where it is part of the culture and the streets are designed for it. Los Angeles is too big, bike lanes are too few, motorists too aggressive.
That was the perception until a few friends decided to hop on their bikes (and a couple skateboards) and tour the city's fountains. The next month, they did it again, this time checking out the concrete spillway Los Angeles calls a river - and twice as many people showed up. And so it went, month after month, doubling in size each time until it became the city's biggest party on wheels, at its height attracting upward of 2000 riders.
What they had found was a city perfect for riding. Its size simply meant there was more to explore. Its vast network of streets were largely empty at night, most motorists tucked safely into bed. The streets were the Ridazz playground. And, with the weather always warm, one could ride year-round.
Eventually, the original leaders had to pass the torch. Leading hundreds of people through the streets each month was a lot of work and many had moved on to leadership roles in bike advocacy or repair co-ops. So they set up a website on which anyone could plan a ride and turned it all over to the community. First there were two or three rides a month. "Imagine," people said, "if there was something happening every weekend!" That soon happened. Then there was something every day. Now, each night, as many as half a dozen rides are happening around the city. Most are small, but each has its own flavor and its own devoted constituency.
The original 2nd Friday ride has died down a bit, its influence dispersed into myriad micro-communities. Many younger Ridazz don't even know that it all began as a monthly ride. To them, Midnight Ridazz is just a name for Los Angeles bike culture in general. The ride begot a website which begot a community.
It hasn't always been easy. There have been run-ins with law enforcement, altercations with drivers, problems with drinking and drugs, bike thefts, and even occasional violence. Los Angeles is, after all, a city, and rides encounter the whole spectrum of city life. But being on a bike forces you to come to terms with the city in a whole new way. You are no longer rushing through it, on your way from point A to point B. And you are no longer separated from the city by your windshield. You are in it.
Envisioned as part We Got the Neutron Bomb, part Dogtown: The Legend of the Z-Boys, In Yer Mouf Dot Com will tell the story of the Midnight Ridazz in their own words and with their own pictures. It will be a celebration of a burgeoning bike culture and also an examination of the city in which it has occurred. It will show the good and the bad, the triumphs and the tragedies, the chaos, the madness, the exuberance, the excitement, the F.U.N.
When I say Midnight Ridazz, you say, "Ride on!"
---