The Blue Eye
Benshi performance
23 June 2007
Conceived for the Betalevel event series Da Benshi Code, The Blue Eye was a reinterpretation of the Hugh Grant movie Mickey Blue Eyes as a Philip K. Dick-style sci-fi noir. Although perhaps a humorous conceit, I am not sure the end result was particularly successful. At very least, it did for a while earn me the honor of appearing on a few websites of Hugh Grant links.
---
From the Da Benshi Code website
Writing their own scripts, Benshi often interpreted silent era films to fulfill their own desires. Film was found footage; narration was subversive; the movie an elaborate backdrop. Da Benshi Code will bring together writers, musicians, artists, and actors who, like their 20ís counterparts, will take back cinema!
More about Benshi at Wikipedia.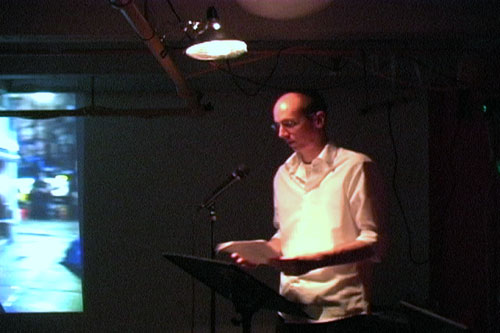 ---